Curriculum Vitae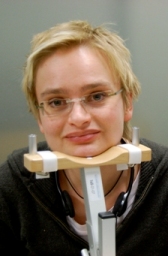 Dr. Constanze Hesse (Dipl. psych.)
03/2008 – present

Postdoctoral Researcher, Experimental Psychology, Ludwig-Maximilians-University, Munich,

Cluster of Excellence: "Cognitive Technical Systems" (CoTeSys)

04/2008  
Ph.D. (Dr. rer. nat.) in Experimental Psychology

Thesis: "The use of visual information when grasping objects"

03/2005 - 03/2008
PhD-Student working for the research project  "Perception and Action" at the University of Giessen

(PD Dr. Volker Franz); funded by the German Research Foundation

 05/2006 - 06/2006
Visiting Researcher: Vrije Universiteit Amsterdam, Faculty of Human Movement Sciences (Prof. Jeroen Smeets and Prof. Eli Brenner)
 12/2004 
Diploma,

Thesis: "Implicit sequence learning: The effect of eye movements"

 10/1999 - 12/2004
Studies of Psychology at the Technical University of Dresden, Majors in organizational and clinical psychology
09/1992 - 07/1999
Gymnasium Altenberg/E.