Psychology as part of the Educational Studies (EWS)
Psychology is one of the three areas "Lehramt"-students have to do as part of their educational studies (=" Erziehungswissenschaftliches Studium" = EWS) which form a basic component of their pre-service teacher education.
It is clustered in six parts:
"Pädagogische Psychologie des Lehrens und Lernens"
"Entwicklungspsychologie des Kindes- und Jugendalters"
"Sozialpsychologie der Schule und Familie"
"Differentielle und Persönlichkeitspsychologie im Kontext der Schule und Familie"
"Auffälligkeiten im Erleben und Verhalten von Kindern und Jugendlichen"
"Pädagogisch-psychologische Diagnostik und Evaluation"
The Chair of Education and Educational Psychology is responsible for the "Pädagogische Psychologie des Lehrens und Lernens"-part and offers corresponding lectures, seminars and tutorials.
It is represented at the Moodle-platform, where the different courses' themes and contents are revised both according to lecture and to the LPO I.
In this way, the chair supplies the students with the possibility to repeat what they've heard in class and to strengthen their understanding of the theories, models and actual fields of application.
Each topic is explained step-by-step by using the lectures' recordings and supplying further literature recommendations. This is supposed to help the students with their (additional) self-studies.
In the seminars and tutorials, different topics are being explained/repeated through presentations, portfolios, etc. as well as by joint tackling of tasks and exercises. Again, the contents were adjusted to support the students with their self-studies thus the understanding of the treated topics can be deepened by questions and examples.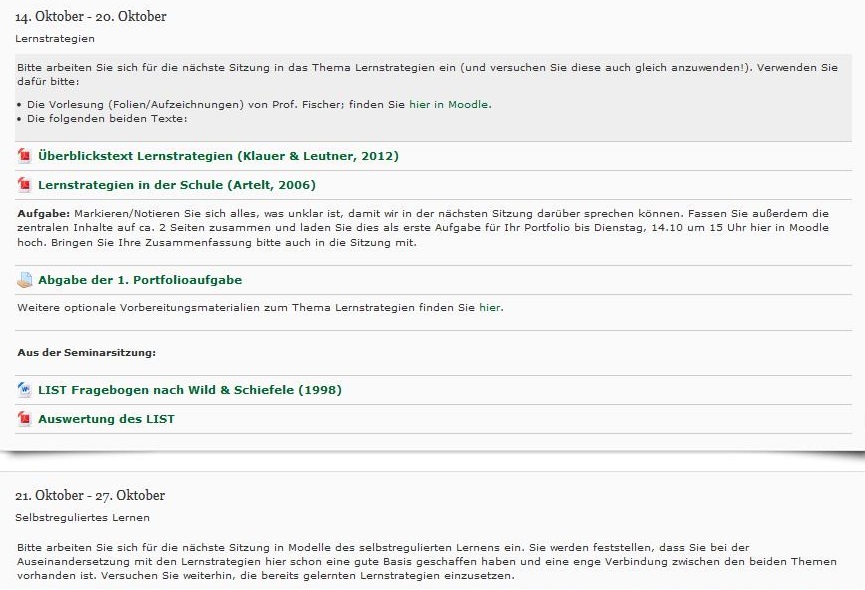 More information concerning the educational studies as part of the pre-service teacher education can be found at the (German) homepages of the Münchener Zentrums für Lehrerbildung (MZL) and the Prüfungsamt (PAGS):